Earlier this year I moved to the other side of town. I can party harder and so I do. But my music (
BBBlood
) went on the back burner for a bit.
Well now things are started to happen again, new ep out self released
Transdimensional Sushi
...
Just recently played a gig with
Old Bamboo
Here
, thanks to all those who came along.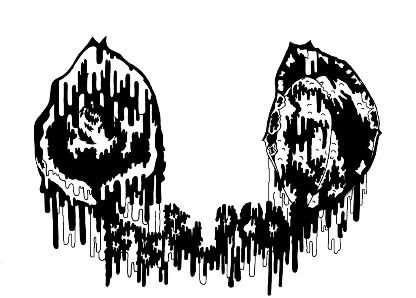 Cough, Spit, Splutter 3" CDr, limited to 50 copies. Artwork by Stephen Vs Cosmos -
Chaos vs Cosmos blog
Stephen is 1/2 of manly noise act
Bromancer
who I will be collaborating with on the 2nd of August at the
Colour Ride - All Dayer
. It's shaping up to be a very brutal event.
Two day's before I'll be appearing on
Ill FM
doing 2x 15 minute radio sessions. Make sure you tune in on Thursday 31st July.
If that wasn't enough, I have a new CDr 3" out on
Burnt Sound Offerings
run by Tyler /
cracked dome
Description:
BBBlood
- 3inch
"5 blasts of limey rage from the motherland. throat stomping drug taking thrills. the hangover will split you in half. you will become a junked out zombie. go fuck yourself. [30 copies]"
I should have copies soon for sale / trades
If you are stateside contact
burntsound at gmail dot com
.
I've got my copies now (looking good!), so pm for more info.
What else! Well - In September BBBlood is playing in Brighton a couple of weeks after Colour Out Of Space (What I'll sadly miss). I've sold up of split tapes with
Green Mist
, George -
Mutant Ape
, should have some on
Turgid Animal
left. Contact
Turgid Animal Webstore
. Also Nicola -
Fecalove
will be releasing the BBBlood 'Vulgar Eye' on Tape. Groovy!
Well keep on checking the blogs here and on MySpace for all updates.
BBBlood
-
MySpace
Thanks for reading and I've tried to link in as many artists / events as possible.
Paul/BBBlood